Sticky Cable Tie Holder Specifications
| | |
| --- | --- |
| Material: | Nylon66 (ULapproved material) |
| Structure: | Self-adhesive Type |
| Color: | White, Black |
| Working temperature: | Applied from -40℃ to 85℃ |
| Feature: | Flame-retardant(94V-2), heat-resistant |
| Certificate: | RoHS(SGS), CE |
| Application: | Firstly, mount the saddle with screws, and then use cable ties to tie cables or wires. |
| Delivery time: | 3-15 days (Depend on your order quantity) after confirming the order. |
| Payment terms: | T/T, Western Union, PayPal |
Adhesive Zip Tie Mounts Parameters and Drawing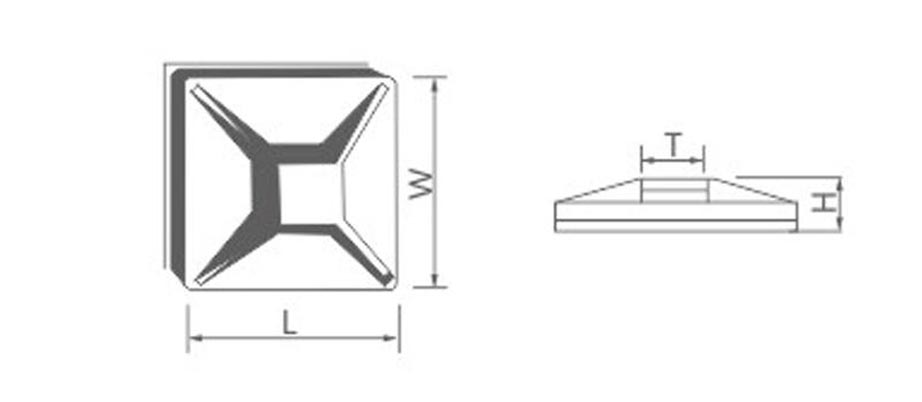 | | | | | | | |
| --- | --- | --- | --- | --- | --- | --- |
| Item No. | LxW(mm) | H (mm) | T (mm) | Box Size (cm) | PCS/CTN | G.W/N.W KG |
| CJS-20 | 20x20 | 6.1 | 5.0 | 52x35x36 | 20000 | 20/18 |
| CJS-25 | 25x25 | 7.5 | 6.2 | 52x35x36 | 20000 | 19/17 |
| CJS-30 | 30x30 | 8.7 | 6.4 | 54x33x32 | 20000 | 18/16 |
| CJS-40 | 40x40 | 6.4 | 10.8 | 54x35x32 | 20000 | 17/15 |
The Applications of Tie Wrap Sticky Pads
Adhesive tie wrap holders, also known as cable tie sticky pads, sticky back zip tie holders, sticky cable tie pads, zip tie sticky pads, or sticky back cable tie holders, are small plastic devices designed to securely hold cable ties in place without the need for screws or other hardware. These adhesive-backed cable tie holders are widely used in a variety of industries, including electronics, automotive, construction, and telecommunications, to organize and secure cables and wires.
The application of adhesive tie wrap holders is simple and straightforward. To use them, you need to peel off the protective backing and stick them to a clean, dry surface. Once the adhesive is in place, you can insert a cable tie through the slots and tighten it around the cables or wires you want to secure. The adhesive backing provides a strong hold, ensuring that the cable tie holder stays in place even when exposed to vibration, movement, or other types of stress.
The Benefits of Cable Sticky Pads
Versatility
One of the main advantages of adhesive tie wrap holders is their versatility. They can be used to organize and secure cables and wires of various sizes and shapes, including round, flat, and irregularly shaped cables. They are also ideal for use in tight spaces where traditional cable management solutions, such as wire loom or conduit, may not be practical or feasible.
Ease of Installation
Another benefit of adhesive tie wrap holders is their ease of installation. Unlike other cable management solutions that require tools, hardware, or specialized knowledge, adhesive tie wrap holders can be installed quickly and easily by anyone. This makes them an ideal solution for DIY projects or small installations where time and budget are a concern.
Offering A Clean And Professional Look
In addition to their ease of use and versatility, adhesive tie wrap holders also offer a clean and professional look. They are available in a variety of colors and styles, allowing you to match them to your cables or equipment for a seamless and organized appearance.
FAQs of Adhesive Cable Ties


What are Cable zip tie mounts?
Cable tie mounts are practical storage tools to make your life without disturbing by numberless wires. The adhesive cable tie mounts with a zip tie sticky back allow you to arrange wire and cable bundles into a harness or panel. Moreover, these tie wrap sticky pads are typically used to secure them to walls, ceilings, desks, or any other places.
How do you arrange cables neatly?
It is easy to maintain and repair cables when they are arranged neatly. On the one hand, you can shorten cables according to practical needs. On the other hand, you can bunch up the excess cables or wrap them with adhesive tie wrap holders. The tie wrap sticky pads of the holders can be used to fix the direction of cables.
How do you secure a self adhesive tie wrap anchors?
The first step is to thread the sticky back cable tie through the square notch on the back of the zip tie sticky pads. The second step is to circle the tie around the wires or cables that you wish to bundle. Then, place the end of the tie into the circle that is on the other end. Finally, you just need to tighten the tie until you have a tight fit. It is the right way to use a sticky zip tie holder. Contact us for more self adhesive tie wrap anchors info!
How long will self adhesive cable mounts last outside?
If you want to apply outdoor cable tie mounts to tight cables. It is suggested to use the black sticky back cable tie holders. The service time of a high-quality, black wire tie holder amounts to 5~10 years if exposed to the outside elements. When you use white sticky back cable ties outside, its service time tends to be much less, at about a year.
How do you lengthen a tie wrap holder?
If you want to extend adhesive zip tie holders/tie wrap holders to secure bigger bundles of cables or wires. It is possible to extend a cable tie by linking two sticky cable tie mounts. Simply slip one cable tie through another adhesive cable tie holder to the point where it can just catch. Cutaway the end. And tie the wire as you normally did.