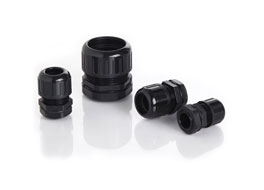 Functions of the cable gland
The main function of the cable joint is to smooth the line, keep the cable sealed, and ensure the insulation level of the cable joint so that it operates safely and reliably. The cable gland is good for environmental protection -- by sealing on the outer cable sheath, excluding dust and moisture from the electrical or instrument enclosure.
If the seal is not good, not only oil leakage will cause the oil-impregnated paper to dry out, but moisture will also penetrate into the cable, which will reduce the insulation performance of the paper. Therefore, using a watertight cord grip is necessary for safety.
Cable gland connectors for sale
As one of the top plastic cable gland manufacturers in China, Saichuang can offer different types of cable glands to meet the requirements, such as stainless steel cable glands, waterproof cable gland connectors, stainless cable glands, brass cable glands, EMC cable gland, NPT cable glands, polyamide cable gland.