The service life of a zip tie holder depends on its quality judged by its production mode and raw material. Meanwhile, the pre-delivery test is also of importance.
Self adhesive cable tie mounts produced by SAICHUANG are made of Nylon66 which can endure the temperature from -40℃ to 85℃. This series of products are of good quality, flame-retardant(94V-2) and heat-resistant. Due to this, the service time of the zip tie holder is long enough to meet our customers' needs. Apart from this, we also provide products of different colours.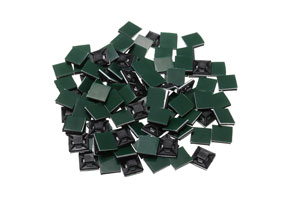 Generally, zip tie holders have two colours, black and white. As we all know, the black ones are much more durable when used outdoor. The white ones are usually adopted indoors because they are easy to blend in with the white background as a whole. However, it is not to mean that the black can only be used outdoors while the white indoors, the choice is on you and your real need.